Alone We Can Do So Little; Together We Can Do So Much.
-Helen Keller
In these changing times, strong and healthy teams are essential for an organization to deliver high performance results.
"The Living Systems Approach is a method that transforms groups and teams through conversations and experiential activities that evolve specifically from the team's unique context and mandate."
— Adria Trowhill
TEAM COACHING - THE LIVING SYSTEMS APPROACH
Adria created the Living Systems Approach™ to coaching which consists of innovative tools and processes to create high performance teams. In these changing times, a strong and healthy team is essential for a vibrant workplace to deliver high performance results and achieve corporate goals.
The traditional "command and control" approach to teams is obsolete. It is no longer a question of capturing their minds and their hearts will follow. In fact the paradigm has been inverted, capture their hearts and their minds will follow.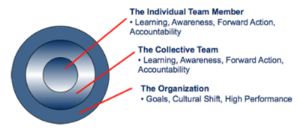 Components of the Living Systems Approach – change from within that radiates outward to create learning, increased performance capacity and organizational results!
The Living Systems Approach™ is the process by which teams can transform.
Designed for leaders and organizations that want to move beyond a "Band-Aid" solution to agile.
For those willing to take an in-depth look in an effort to create lasting change and a vibrant workplace.
Opposite of a cookie-cutter approach; the uniqueness of the team and the talents of the individuals within will be surfaced.
Is a system that acknowledges the I in teams and provides individuals the opportunity to enrich the experiences of the collective.
Is interactive for each team member as they will actively participate in the process of self-discovery and learning, and create momentum to raise the teams overall performance capacity.
A proven way to achieve true transformation of your team and organization.
Adria will guide teams through this system to increase performance capacity while gently pushing boundaries; resulting in the development of new skills in individuals that are truly transformational.
Team Coaching is for:
Teams at the Top
Senior Leadership Teams
Project Teams
Teams in Crisis
Start-up Teams
Virtual teams
The Focus of Team Coaching Varies:
Individual and Collective Self-Discovery and Learning
Collaboration
Common Vision and Purpose
Trust and Openness
Decision Making (buy in & stay in)
Mutual Accountability
Confronting Difficult Conversations
Resolving Conflicts
Cultural Change
Increased Capacity